Welcome to the home of Whistling Coyote! The head Coyote is Shari Clark and she designs and manufactures everything by hand to insure that all pieces are unique. Specializing in sterling silver rings, pendants and earrings, Shari can design almost anything to meet your specifications. She also has a complete set of her own designs for you to choose from including a select set of designs made from or incorporating pieces of antique sterling .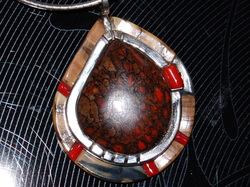 My first pendant. Dinosaur bone,coral,and wooly mammoth ivory.
.
​Meet Shari...
A few years ago after moving to southern Colorado I was lucky enough to be able to bring one of my longtime dreams to reality when I was connected with a silver smith in the area. He taught me how to cut stones and work them into beautiful pieces of jewelry. I then slowly began to build my own shop here at home. While most of the stones I use are purchased from other cutters, I do use those skills in the channel work pieces I do. I love going into the shop and looking through stones, holding them and letting that one grab my attention. I don't sketch as many artists do, instead I just let the stone lead me and the design develop on its own. I find the process both exciting and therapeutic!
I hope that you will enjoy looking through the pieces I have to offer.

​ Come on in and have a look around! And don't forget to check out our Etsy shop, WhistlingcoyoteCO
---

Living where we do occasionally I get the chance to use a Rattlesnakes rattle in my jewelry. It's always a conversation starter!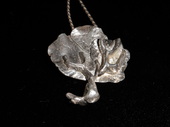 I love this tree pendant. I cast the trunk and limbs in cuttlefish bone. I love the look of castings done this way because you can see all the ridges from the bone like its own little fingerprint.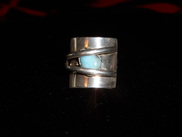 This ring features a small larimar and the setting is made from the scoop portion of a sterling silver spoon that was a wedding gift when my mom and dad were married.